Basque music around the world: Ugandan "street children" playing "Lau Teilatu" and "Txoriak txori"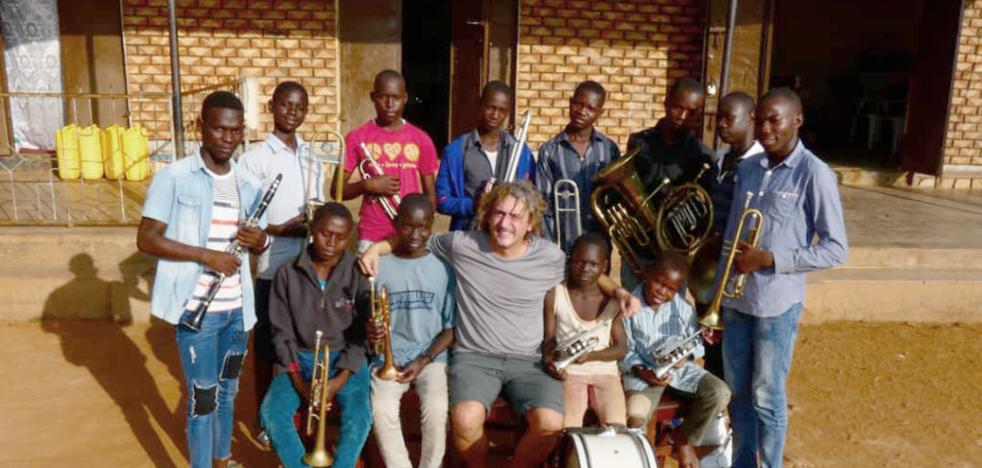 That music transcends boundaries is something that people already know. It's hard to imagine a band playing "Lau Teilatu", "Euskal Herrian Euskaraz" or "Txoriak Txori" is in a remote area of ​​Africa. It all started when Navarrese music teacher David Orduña volunteered a few years ago in Iganga, a Ugandan town of around 550,000 people. There, the NGO that works with it, Destino Uganda, has a project at the Iganga Community Brass Band Music School, which works for Take back children who live on the streets and help them reorient their lives through music. "The gang gives them a roof, food, healthcare and a future. There just so happens to be on the street Sniff the glue for being professional musicians. They cling to life through machines», Orduña explains.
Professor Navarese took advantage of his visit to spread the book of Basque songs throughout Ugandan territory, which at the same time helped him spread the project of this non-governmental organization in the Basque Country. "In Iganga, the music of the military bands is often played by children. But as long as you focus In learning songs for other audiencesWith the goal of making the project more visible. Since my visit was during Christmas, we decided to register Basque Country And that people congratulate themselves on Christmas with this video. It was a success, too We are encouraged to play "Txoriak Txori" and "Lau Teilatu".Remember.
"Birds birds"

The project was developing, and after six years, it has become more than just a music school. Serves around 70 guys with a harsh past behind them, 25 of them live in the squad facilities. "The key is the time they take in the music. There is no TV, no internet, no video games and that It allows you to focus more on learning new machines and exercising. Additionally, they work with Motivation and gratitude that music was the way out of the street. They have a lot of talents, you give them an instrument and they do miracles, "says the Navarre musician enthusiastically.
Basque Country

Ordonia visited the center up to four times. On his travels he met hundreds of young people, but if he had to choose a special case, it would be from John Susi Mpandi, one of the creators of this project. Mpande was the 'street boy' about 50 years ago, Troubled times in Uganda, with thousands displaced across the country. He was saved by a group of missionaries who welcomed him into a community of "more children, where they ensure food and education."
One of the missionaries had musical knowledge and "saw him from the very first moment A special talent for JohnSo he convinced his group of They will pay for music studies. He did so well that he ended up as a teacher at the Conservatory in Kampala, the nation's capital. I'm not happy with that, He saved money by giving lessons and concerts and came to Europe To graduate at a later time in a procedure in the Netherlands ».
But Mpande He was not going to get rich, but rather to be a role model Who saved him from the street. "He gave up the comfort that Europe offered him to return to it His country and giving other children the opportunity that life gave himAnd this is how the project looked like, "Ordonia concludes.
Anyone who wants to support the project can do so through As a teamContribute € 1 per month, or on their website Destiny UgandaDonate as much as you want. All proceeds go directly to the children's shelter.
 "Coffee fanatic. Gamer. Award-winning zombie lover. Student. Hardcore internet advocate. Twitter guru. Subtly charming bacon nerd. Thinker."