Jolene Tojim, A Life Among Uganda's Gorillas What moves… | future planet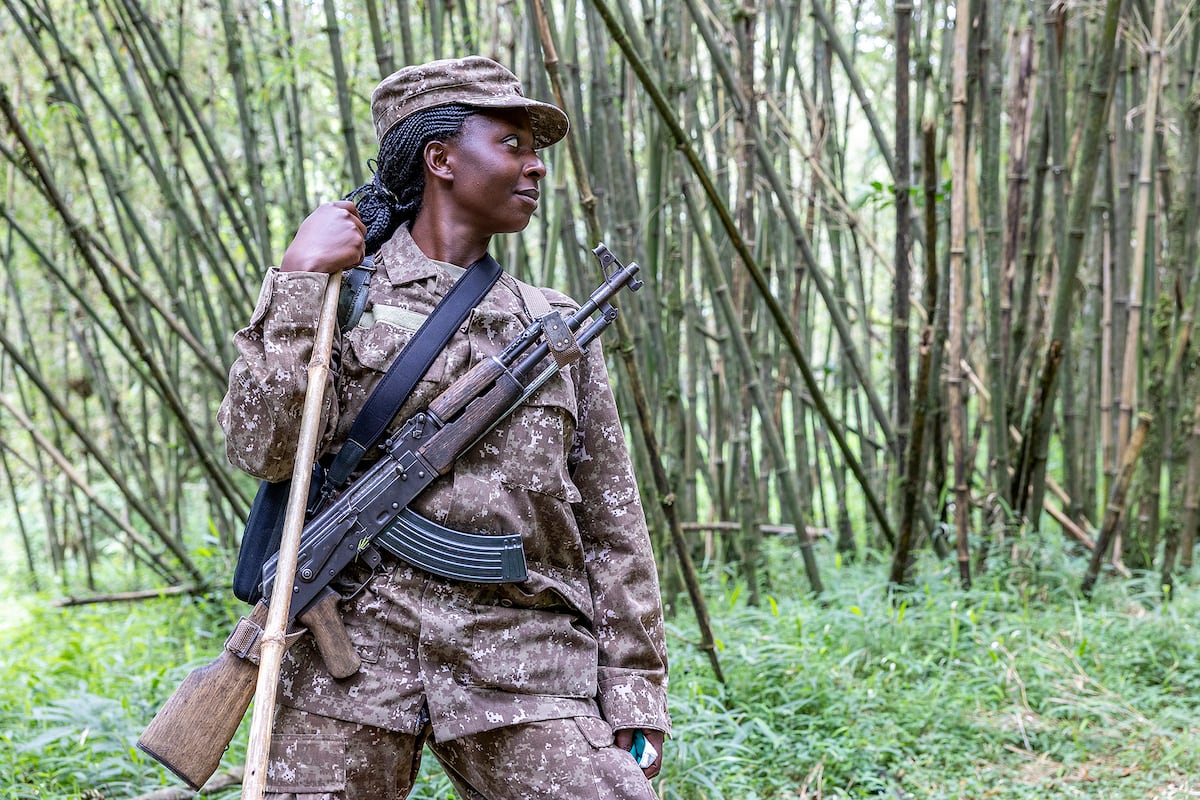 At the foot of the Gahinga and Muhavura volcanoes, in far southwestern Uganda, Joyleen Tugeme, also known as Joy, begins her day. Wearing a UWA insignia on the left arm of her uniform, the young woman braves fog and forges through the rain. For six years, Tugeme has been working for and nurturing Nyakagizi familythe only subspecies of mountain gorilla that lives in Majahinga National Park. A natural place to pamper, breathe and feel like home. "The fact that Mjahinga is the only place where you can find these types of primates makes it a special place for me," he admits in the documentary. cheerfulAnd who recounts his travels. The feature film, directed and co-produced by Aner Extebarria and Katz Studio, screened December 12 and 14 at the festival. BBK Mendi from Bilbao and in the cinemas of Diagonal in Barcelona, ​​respectively, and in collaboration with Rift Valley Expeditions.
At the end of the day, he comes home and resumes care. This time, from his children. Favor and Abby, four and two years old respectively, play with baby gorilla figures carved from wood and hand painted. "Do you see this?" Tojim asks, pointing to the animal's eyes. "It's his eyes," he said, placing the older man's hand on his eyelids. "There was one time when they walked near our house and my children had a chance to see them. I want them to feel them and treat them like people," he says in the feature film.
Although research indicates that the number of poaching incidents is declining, the truth is that it will never reach zero.
During a conversation with this newspaper in Barcelona, ​​\u200b\u200bthe young woman confirmed that she would not be what she is today, if not for her role models. "Before I became a ranger, I dreamed of becoming a teacher. I grew up seeing the figure of my father, a teacher by trade." After completing high school in Kasese, her hometown, the young Ugandan majored in flora and fauna studies. It was just like that, during his training, when Togeme was confirmed. "I was exposed to nature and coexistence with all kinds of species. I realized how society was destroying the environment. I had to do something."
After several interviews, a physical exam and five months of training in the Murchison Falls National Park, in the north of the country, Tugeme was ready to embark on the adventure of her life. A biopic of passion, conservation, and primate care that's now catapulting to the big screen.
Global warming and overfishing
Until 2019, about 1,063 gorillas inhabited three enclaves in the region: Mgahinga Gorilla National Park, Virunga in the Democratic Republic of the Congo and volcanoes in Rwanda. "In the 1980s, there were never more than 240 presidents. We're making progress, and if we double our efforts, we'll double the numbers," Togem says. During long shifts of eight to 24 hours, she and her team monitored the conditions of the primates, especially those of the nine members of the Nyakagizi family. "Seeing the gorillas in peace and freedom makes me deeply proud as a professional and even as a person," he says.
Although numbers have quintupled, threats remain as global warming and overfishing accelerate. Although communities of these primates enjoy convenient habitat spaces, the drought and heat mean that a large portion of them must move around in search of food. We have observed gorillas during dry seasons walking a few kilometers to get food. Many plants lost water due to the heat," points out the Guardian.
I want my kids to feel gorillas and treat them like people
However, the acceleration of the climate crisis is not the main problem. Although investigations indicate that the number of poaching incidents is declining, the truth is that it will never touch zero." Poaching aims to shoot or injure wild animals within protected areas through camouflaged traps. It is, among other factors, Another, one of the biggest enemies of animal extinction.
In 1991, the UWA established Mgahinga National Park. Until then, the land was public property and a place of coexistence between people and gorillas. The law forced many people to leave their homes and even their food resources. They have no money, their land has been taken from them and they have not received fair compensation, so what do you expect from them? They must hunt."
future legacy
In the sobriety of a room devoid of natural light, Tugeme is able to evoke the skyscrapers of nature. He enthusiastically explains how gorillas survive in an area that shares borders with three countries in sub-Saharan Africa: Uganda, Rwanda and the Democratic Republic of the Congo. They know no bounds. They just worry about eating and sleeping."
Tugeme is a living reflection of hope. "Nature must be respected," he said at the end of our conversation. I ask him why. He is clear and answers without pause. "A tree can live without me, it doesn't need me at all. On the other hand, I need oxygen in order to survive." In addition, the young woman emphasizes that it is not only important how we behave today, but also "the legacy in the future."
She looks to everyone's horizon with hope. For her children, her gorillas, and the land she has seen grow and work on day in and day out. At the foot of the volcanoes, Tugeme rescues her ambition of becoming a teacher. For education and awareness. Hanin with his father's ring. "We must educate communities so that they appreciate the importance of these primates in biodiversity as well as acknowledge our role," he advises.
You can follow PLANETA FUTURO on TwitterAnd Facebook And instagramand subscribe here to our newsletter.
"Reader. Beer practitioner. Web expert. Subtly charming travel geek. Friendly music specialist."