Science and poetry of the greats hand in hand in Grado with the exhibition "GEAS"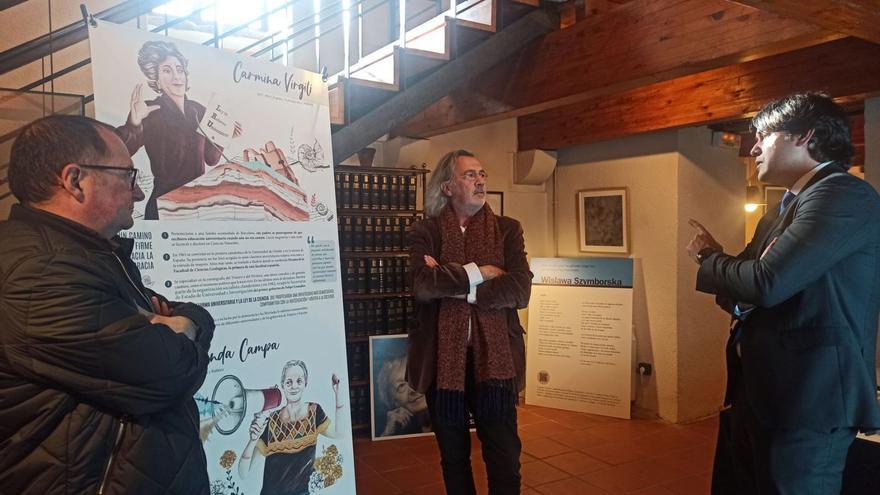 Geosciences and poetry go hand in hand in the row of metaphors for Grado with the exhibition "GEAS: Women who study the Earth, women who write the Earth" which opened yesterday at the House of Culture in Moscona, where it will remain. until May 14th. It is a collection that unites the exuberant lives of twelve scholars and six poets which are "turned into a wonderful fusion", as explained by the head of the Aula de las Metáforas, poet Fernando Beltrán.
The exhibition is part of the collection of the Institute of Geology and Mining of Spain on scientists related to geology or geography, ceded to the Aula de las Metáforas, which has added a selection of poems and authors who have written verses about land and nature to it throughout the twentieth century. They are Sarah Tisdale, Gabriela Mistral, Gloria Fuertes, Wislawa Szymborska, Adrienne Rich and Mary Oliver.
Scholars include Mary Anning, Dorothy Hale, Mary Leakey, Carmina Vigeli, Maria Servanda Campa, Marietta Neal West, Katja Kraft, and Catherine D. From the bottom of the sea, fortunately, is on show after being donated by the National Geographic Institute for its exhibition in Grado.
The opening was attended by the Minister of Science and Innovation, Borja Sánchez, who noted that science and art have a lot in common: creativity. "The creative process is not very different," he said, noting that the scientific hypothesis and the literary imaginative work are in similar ways and, moreover, in the same code, letters: "All science is in letters, they are not." Very different worlds."
She also commended that the sample highlights the work and discoveries of women scientists "when there is a lack of references for girls in STEM (Science, Technology, Engineering and Mathematics, for its English acronym) professions". In this sense, Culture Consultant Elsa Suarez added that the sample will be known among the educational centers affiliated with the Council so that students become familiar with "GEAS".
The exhibition dedicated to scholars has been promoted by University of Granada professors Rosa María Mateus and Ana Ruiz Constant, and contains illustrations by Nivola Oya. It is an opportunity to enjoy science and poetry through pioneers who, as Beltran noted, "women move the earth and that is poetry."
"Award-winning zombie scholar. Music practitioner. Food expert. Troublemaker."