IES Miguel Catalán de Zaragoza celebrates the second edition of its Eco Movies Festival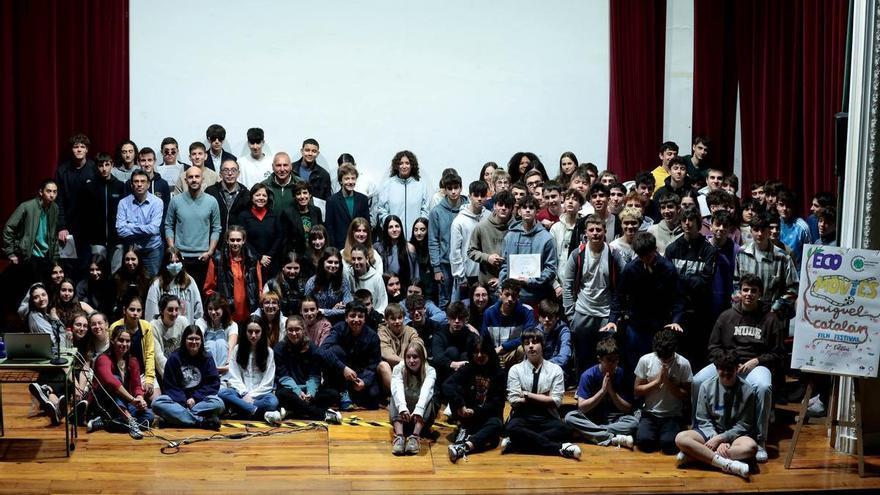 he IES Miguel Catalan de Zaragoza The second edition was held Environmental Film Festivala project dedicated to cinema and Sustainable Development Goals. Through this project implemented within the framework of the Ecozine Film Festival, More than 100 students from 4th ESO I worked on developing Short films dedicated to sustainability and environmental issues.
teachers from Departments of Technology, Biology, Economics, English, Philosophy, and Drawing So that the students can create all the materials for it: from the design of the official poster of the festival to the development of the technical part, research and ethical reasoning on various topics in English and Spanish.
He was present at the event Pedro PinheiroDirector of the Ikuzen Film Festival. Anir Etxibariaa documentary filmmaker specializing in anthropology, nature and conservation, Celia Villarof the Municipal Education Department of the Zaragoza City Council and Fernando YarzaExtraordinary Associate Professor at the Faculty of Education of the University of Zaragoza and promoter of studies and activities in cinema and education.
6
Short films and chat with Aner Etxebarría
First, the final eight short films submitted by the students were watched. The short film won first place. It's time to make a changel Sergio Hernando, Alcher Martinez, Jacob Romke, and Ismail Traore. The second place went to the short film Economic differences and social differencesl Sergio Garcia and Jaime Tomaswhile the third to This is what you breathel Mario Martinez, Juan Mendez, and Luis PeñalozaAll written in English and translated into Spanish.
Below is the section focused affiliate The 16th edition of the Ikozen Film Festivaldedicated to Youth for Climatebrought to the Institute the co-production of Spain and Uganda cheerfulAnd Directed by Anir Etxibaria. This short documentary was filmed in Majhinga Gorilla National Parkin Ugandais the story of a remarkable woman who dedicates her days to combining her life as a mother with protecting the last mountain gorillas living in Uganda's smallest national park.
Young people had the opportunity to Chat and learn more about the work of Etxebarría. He explained to the students that with "Al Farah" he fulfilled his childhood dream, which is to meet that gorilla and urge them to make professional decisions in their lives while feeling in their hearts what makes them happy and daring to take risks.
 "Coffee fanatic. Gamer. Award-winning zombie lover. Student. Hardcore internet advocate. Twitter guru. Subtly charming bacon nerd. Thinker."