Rugby Union: England players can participate in the Women's World Cup and Olympic Sevens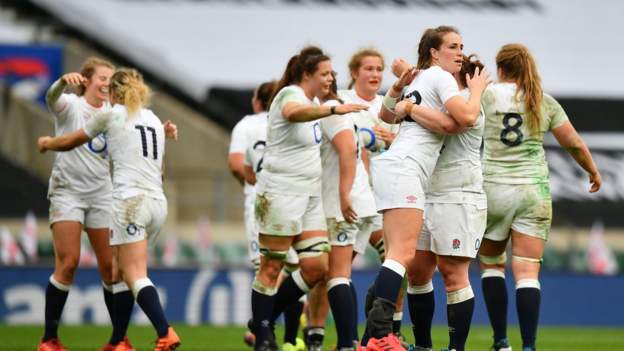 England players will be able to experience both Olympic races and women's Rugby World Cup selections later this year.
Juveniles are only six weeks apart.
Nikki Bunsford, president of Rugby Football Association, said that a "limited number of players" would participate in a "great opportunity" to attend both events.
"It's not just about having to choose," Ponsford said. "More about conversations about whether we think he's right for these players."
"I think it's a huge challenge, both mentally and physically for the players."
It is not known how many England players would try to "double" if both events continued.
The Women's Olympic Seven will run in Tokyo from July 29-31, with the Women's Rugby World Cup starting in New Zealand on September 18th.
Wells winger Jasmine Joyce went to the 2016 Rio Olympics with GP and he did She is committed to trying to attend both events.
After the Rio 2016 Olympic Games, many English GB Sevens players who had been on full-time contracts returned to their XVs at the 2017 Rugby World Cup.
The seventh and fifteenth programs were then split, with athletes competing only in one form of the game.
The coronavirus outbreak has caused problems halting funding for the Sevens programs across England, Wales and Scotland, though. National Lottery funding gave players a lifeline.
The uncertainty surrounding the Tokyo Olympics, which has already been postponed once, means that many of the seven players have switched to the XV Games and some have been brought back into the England squad.
The seven former full-time players, Alex Matthews, Elle Kildon, Helena Rowland and Meg Jones, all competed for England's 15th in the fall.




 "Coffee fanatic. Gamer. Award-winning zombie lover. Student. Hardcore internet advocate. Twitter guru. Subtly charming bacon nerd. Thinker."