South Africa and the UAE are leaders in sustainability in Africa and the Middle East (2)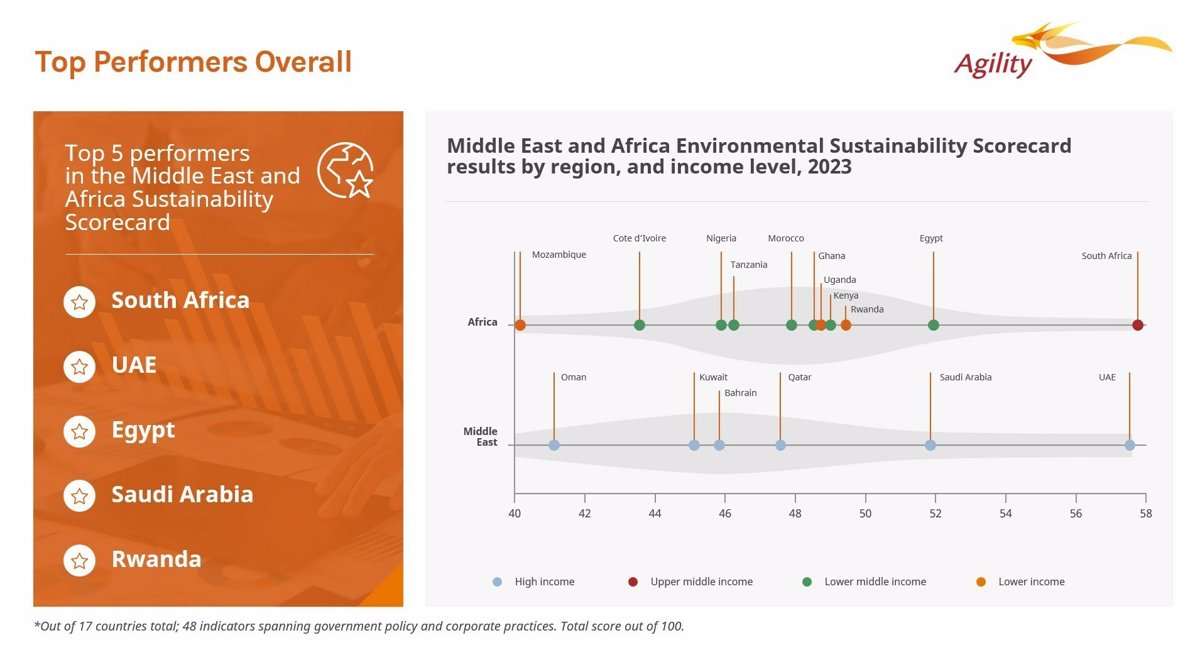 (Data sent by the signing company)
New report claims two regions committed to environment despite 'late arrival'
Dubai United Arab Emirates, November 16, 2023 /PRNewswire/ — South Africa, the United Arab Emirates, Egypt and Saudi Arabia are countries The Middle East And Africa is struggling the most against climate change, according to a new report comparing sustainability policies, investments and measures taken by governments and companies.
he Environmental sustainability scoreboard The Middle East And AfricaIt is a detailed examination of the country's performance with regard to environmental sustainability, government policies, and business practices in the two regions.
The report concludes that the 17 countries analyzed "are relative laggards in global sustainable development, but at the same time represent regions that are rapidly ramping up their sustainability strategies, programs and investments."
The report was prepared by Agilitya global supply chain services company headquartered in Kuwait. Prepared by Horizon groupa Geneva-based company specializing in research and analysis for governments, international organizations and leading companies around the world.
The scoreboard uses 48 performance and progress indicators to compare countries. The indicators include data, regulatory frameworks and assessments of policies, incentives and business practices in six key areas: green investment and technology; Sustainable infrastructure and transportation; Governance and reporting; energy transition environmental ecosystems; And circular. To learn about business practices and developments, Horizon surveyed 647 business managers in 17 countries.
From 1 to 17, this is how the countries are classified: South Africa, the Emirates, Egypt, Saudi Arabia, Rwanda, Kenya, Uganda, GhanaMorocco, The State of Qatar, Tanzania, Nigeriathe two seas, KuwaitAnd Ivory Coast and Oman Mozambique.
Major discoveries
Companies don't pay attention to COP. 82% of African companies and 49% of them

The Middle East

They are unfamiliar with the UN-led COP process, which countries use to drive and measure efforts to address climate change. A few companies use COP to set their sustainability goals.
Climate change hurts businesses. 97% of companies say their business has been affected by climate change, and 49% say climate change has caused "significant damage" or had a "significant and increasing" impact on them.
Governments are leading while companies are trying to catch up. When it comes to climate action, governments outperform the private sector on both

The Middle East

As is the case in Africa.
Business spending on sustainability is expected to increase. In the next 12 months, 73% of African companies and 62% of companies operating in them

The Middle East

They plan to allocate more than 5% of their capital expenditures to achieving environmental goals.
There is no one size fits all. Different countries have different sustainability priorities depending on their income, economic strength, energy dependence and other factors. High-income, energy-producing Gulf countries tend to invest more in infrastructure and sustainable ecosystems. African economies perform better in energy conservation and consumption.
Green investing is expensive. High- and middle-income countries invest the most:

The State of Qatar

The Emirates, Morocco and Saudi Arabia.
Africa is committed to environmental transport.

Uganda

,

Nigeria

Rwanda, Kenya and South Africa are leading the way in energy conservation and the use of non-fossil fuels in transportation. Hydrocarbon-dependent Gulf countries are focusing more on green buildings. For Gulf states, the transition to clean energy is complicated by energy-intensive national priorities, such as their desire to boost industrialization and their need for desalinated water. In general, both in

The Middle East

As is the case in Africa, companies invest more in greening their fleets than in their buildings.
Waste management and consumption are linked to wealth. High-income countries are making more efforts to manage waste sustainably. The poor make more efforts to reduce consumption. Overall, Egypt, South Africa, Bahrain and the UAE performed best in "circularity" – reducing waste, reducing consumption and encouraging recycling and sustainable production.
Agility was recently named by Forbes Middle East "Leader in Sustainability" in The Middle East In the transportation and logistics sector. vice president Tariq Sultan He stated that the company's strategy and investment decisions are increasingly conditioned by the urgent need to combat climate change.
"As a supply chain operator and investor in… The Middle East "And Africa, we want to know what the priorities of governments and companies are and where to allocate resources in the battle against climate change," Sultan said. "We want to know who we can partner with on green infrastructure, transportation, alternative fuels and life supply chain services that reduce environmental impact without sacrificing performance.
Horizon, which produced the report for Agility, explained that its intention was to go "beyond selective characteristics." The Middle EastWhich depend on fossil fuels and emit many greenhouse gases per capita, and African countries that emit small amounts of greenhouse gases but take relatively few environmental measures.
The report is published on the eve Conference of the Parties 28, the UN-led Global Climate Change Conference held from November 30 to December 12 in Dubai. Their conclusions extend A.'s conclusions a report Issued by the World Economic Forum (WEF) in October on global decarbonisation and energy transition The Middle East And the north Africa.
The World Economic Forum report concludes that "countries The Middle East And north Africa lags behind similar regions in achieving progress in sustainability. While local governments have committed over the past 24 months to reducing 60% of emissions to zero The Middle East And the north In Africa, companies are yet to follow suit and close the gap with similar global markets: 12% have set a zero emissions target, and 6% have developed a roadmap to reach the zero emissions target.
About Agility
Agility is a global leader in supply chain, infrastructure and innovation services, with more than 45,000 employees on six continents. Agility is a multi-business operator and investor specializing in growing and scaling businesses. Agility companies include the world's largest aviation services company (Menzies Aviation); Global fuel logistics company (Tristar); Leading promoter and operator of logistics parks in The Middle Eastsouth Asia Africa (Agility Logistics Parks); A commercial real estate company is developing a huge shopping center in the United Arab Emirates (UPAC). Other Agility companies provide customs digitization services, remote site infrastructure services, defense and government services, e-commerce enablement and digital logistics. Agility invests in innovation, sustainability and supply chain resilience, and has minority stakes in a growing portfolio of listed and unlisted companies.
For more information about Agility, visit:
web page: www.agility.com
Twitter: twitter.com/agility
LinkedIn: LinkedIn.com/company/agility
YouTube: youtube.com/user/agilitycorp
Infographic – https://mma.prnewswire.com/media/2276886…Logo – https://mma.prnewswire.com/media/1739997…
View original content: https://www.prnewswire.com/news-releases/sudafrica-y-eau-son-lideres-en-sostenibilidad-en-africa-y-oriente-medio-301990388.html
"Award-winning zombie scholar. Music practitioner. Food expert. Troublemaker."