Doctors will be promoted in the fifth. Binational Conference on Medicine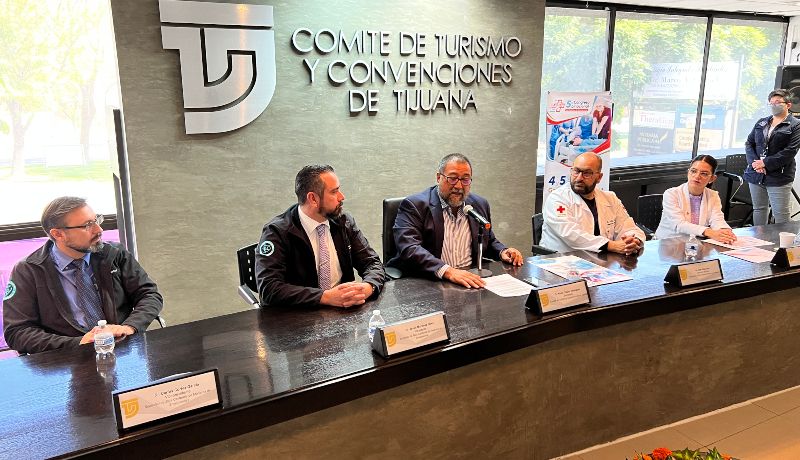 by: Report Uniradio – October 26, 2022, 04:34 pm

* The goal is to publicize developments in patient care.

Tijuana A.- The Tijuana Tourism and Convention Commission (COTOCO) has announced that the "Bilateral National Conference on Emergency Medicine" will be held from 3 to 5 November, through which it seeks to promote continuing medical education.

At a press conference, Dr. Karim Shalita Rodriguez, Secretary of Kotoko, noted that the organization widely supports this type of event, as it contributes to Tijuana's position at the national level.

"These are events that also leave us with great benefit as a destination, as more than 300 exhibitors from the entity, the rest of the country and foreigners are expected to attend, which will generate an economic leak of 15 million pesos," he said. .

In addition, he said, it is important to promote professionalism among the medical profession, as Tijuana has become a benchmark as a destination for health and wellness tourism both nationally and internationally.

For his part, Dr. Jesus Martinez Oliva, President of the Baja California Emergency Medicine Association, explained that this is the fifth edition of the "Bilateral National Conference on Emergency Medicine", which aims to publicize the progress in this field.

"It is an event that aims to promote the modernization of medical, pre-hospital and nursing knowledge, through specialized presentations, real clinical cases, discussions and workshops, and standardization of medicine in both California," he commented.

This is why there will be 35 high-level speakers, both nationally and internationally, in this fifth edition, who will speak on topics of interest to the medical community working in emergency areas.

The leader explained that the workshops "POCUSUltrasound", "ECMO-RCP" and "Nursing in a patient with a heart attack code in the red room" have been scheduled, so that doctors stay ahead.

In this sense, he noted that during the pandemic, Tijuana was the first place where ECMO technology, essential for identification, was applied, helping many patients move forward.

Finally, Dr. Jesus Oliva stated that by being part of the organizing committee with the Mexican Red Cross, both the Mexican Society of Emergency Medicine and the Baja California Society of Emergency Medicine will give academic validation for this conference, in which 300 people are expected to attend.

For more information, you can call 664-608-6727, as well as on the Cruz Roja Tijuana social networks.

The press conference was also attended by Dr. Aldo Diaz Diaz, medical director of the Mexican Red Cross Hospital in Tijuana. Amy Eliscas, Teaching Coordinator at the Mexican Red Cross Tijuana; Dr. Carlos Cortez Garcia and Dr. Lupita Cervantes, Vice President and Secretary of the Baja California Emergency Medicine Society, respectively.
"Award-winning zombie scholar. Music practitioner. Food expert. Troublemaker."