Huawei and partners will promote digital inclusion in Uganda through the DigiTruck project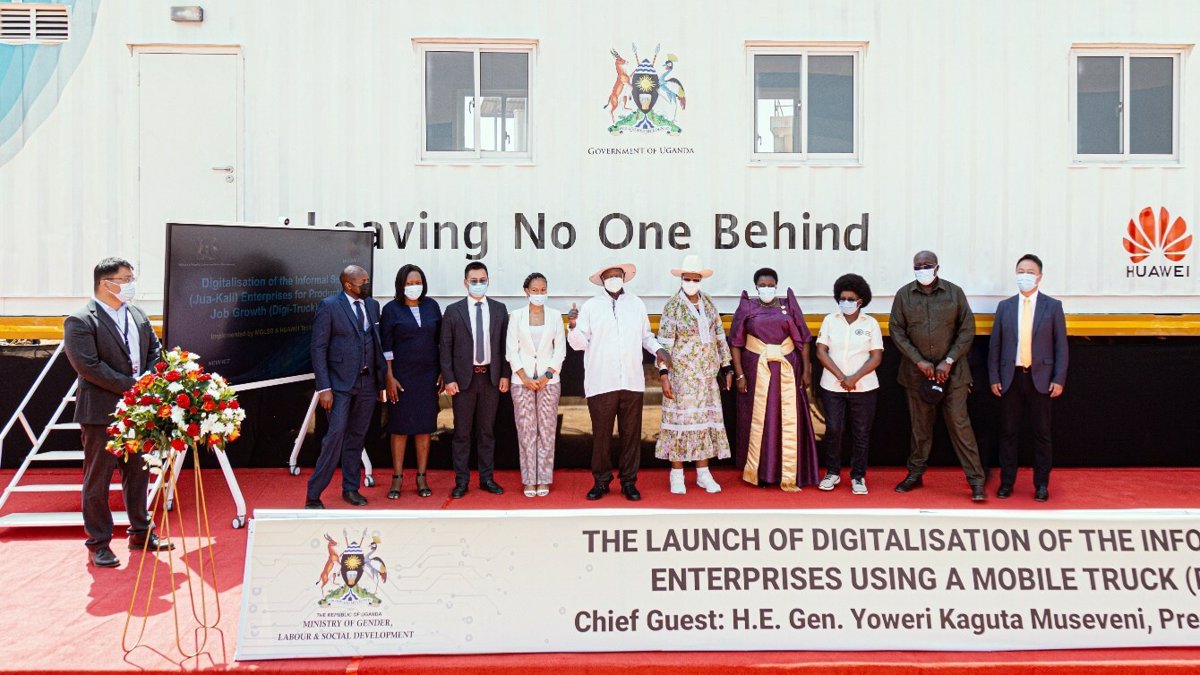 (Information sent by the signatory company)
DigiTruck will provide free digital skills training to over 10,000 beneficiaries
KIRUHURA, UgandaAnd March 13, 2023 /PRNewswire/ — Chief UgandaYour Excellency, Yoweri Kaguta Museveni, officially launched a new DigiTruck project in Uganda.
The project will provide free digital skills training to more than 10,000 beneficiaries over a period of three years.
The DigiTruck project was launched on March 8 in celebration of International Women's Day in Kiruhura District, and is part of the initiative Tech Four Huawei, the company's long-standing initiative to drive inclusion and sustainability around the world.
President Yoweri Museveni commented in a tweet: "I launched Huawei's DigiTruck project in Uganda. A project that will benefit more than 10,000 Ugandans over the course of 3 years, especially Goa Kale, business owners, women, young girls and students through digital skills. So I am very happy to launch this Huawei project.
In line with the International Women's Day theme "DigitAll: Innovation for a Gender Equal Future" and Uganda's National Theme "Equal Opportunity in Education, Science and Technology for Innovation and a Gender Equality Future", among the priority beneficiaries of the DigiTruck project Uganda Girls and women are listed. Other beneficiaries are youth and "Jua-Kali" micro and small business owners.
Corporate digitization Joe Cali It will create sustainable livelihood opportunities for the informal sector by allowing small businesses to participate in regional and national trade, broadening the clientele and enabling businesses to offer a greater range of services and products to clients," said Col. Rated Okello B. Charles Angola, Minister of State for Labor, Employment and Industrial Relations Uganda. "The training will also improve financial inclusion by increasing the ability to work with mobile money and expanding employment opportunities, especially in rural areas."
In cooperation with Ministry of LaborThe Gender and Social Development Corporation, International Social Gap Bridging, and the DigiTruck project Uganda It is in line with the country's Vision 2040, the National Development Plan, and the Digital Education Agenda Strategy. These initiatives focus on promoting basic digital skills, digital information and communication, digital transactions, using the Internet to solve problems, online safety, civil liability, and data privacy.
"As an international social enterprise that exists to bridge the digital divide, Close the Gap believes that access to digital skills is key to empowering people economically and socially," he said. Francesca MoemaClose the Gap DigiTruck Project Manager.
Converted from used shipping containers, DigiTrucks are mobile classrooms mounted on trucks that can travel to remote communities that lack training centers. Each 40-hour course trains students in digital skills, such as using hardware, office software, and the Internet, and interpersonal skills, such as writing a resume, applying for a job online, and running an online business. Connected to the 4G network, which is DigiTruck from Uganda It accommodates 20 students in one sitting and is equipped with Huawei IdeaHub smart screen, smartphones and laptops. Since all devices are powered by solar energy, DigiTrucks can serve communities without power.
"This project will allow residents of more rural areas than Uganda Gain knowledge of information and communication technology and promote their business through e-commerce and internet marketing. That's why we have the motto "You're Better for It". Uganda "We will continue to innovate and strive with our partners to promote a more inclusive and sustainable digital world for all," said Gao Fei, CEO, Huawei Uganda.
So far, Huawei has launched DigiTruck projects in Kenya, Ghana and France with the aim of providing digital skills to those most likely to be left behind in the digital world, such as rural communities, the elderly, unemployed youth, people with disabilities, and women.
About Huawei TECH4ALL
TECH4ALL is Huawei's long-term digital inclusion business plan and initiative. Through innovative technologies and partnerships, TECH4ALL is designed to help advance inclusion and sustainability in the digital world.
For more information, visit the Huawei TECH4ALL website at https://www.huawei.com/en/tech4all
Follow us on Twitter at https://twitter.com/HUAWEI_TECH4ALL
picture – https://mma.prnewswire.com/media/2031200…
View original content: https://www.prnewswire.com/news-releases/huawei-and-its-partners-will-boost-digital-inclusion-in-uganda-through-the-digitruck-project-301770115.html
 "Coffee fanatic. Gamer. Award-winning zombie lover. Student. Hardcore internet advocate. Twitter guru. Subtly charming bacon nerd. Thinker."