First preview of the new sci-fi series from the creators of 'Lost' and 'The Big Bang Theory'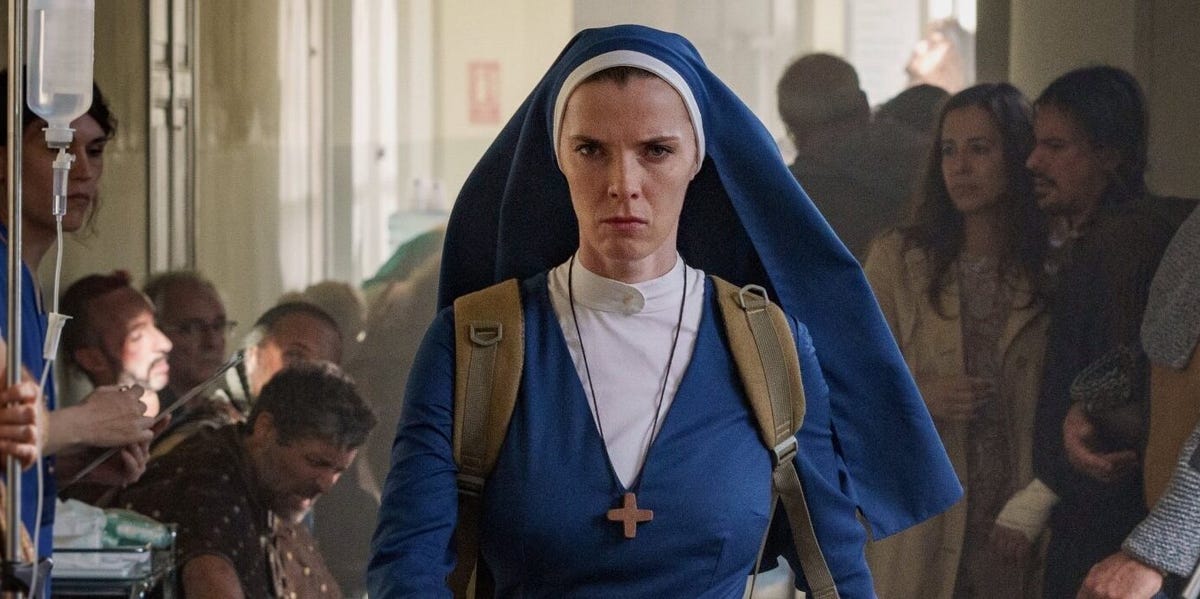 ---
Damon Lindelofthe creator of many of the best series in history such as "Lost", "The Leftovers" and "Watchmen", has a new project with one of the writers of "The Big Bang Theory", Tara Hernandez. New science fiction series titled 'Mrs. DavisAnd he will tell us Nun fight against artificial intelligence (Mrs. Davis of the title) who wants to take hold of the will of humanity.
Betty Gilpin ("GLOW", "The Hunt") You will star in the series, a nun named Simone who will stop at nothing to destroy artificial intelligence before it causes a global meltdown. Judging by the first glimpse today, it looks like Simone will be on her own with her mission, ever since The rest of the planet is completely infatuated and infatuated with the personality of the AI. It's unclear how Mrs. Davis plans to wipe out humanity, but it appears that the subscribers to her new cult will be sent out on "quests" to earn "wings". Whatever it means.
The first trailer, which looks like an advertisement for some huge tech company along the lines of Facebook or Apple, with People all over the world who are passed on an earphone by strangers saying "she wants to talk to you". However, the biggest sci-fi element of the trailer is that everyone agrees to it instead of saying "no thanks" and running.
Together with Gilpin they will be Jake McDorman and Andy McQueen as champions, in addition to David Arquette ("Scream" franchise), Margo Martindale, Ben Chaplin, Elizabeth Marvel, Chris Diamantopoulos, Katia Herbers, Mathilde Oliver, Ashley Romans And Tom and all of it ('game of thrones').
Hernandez and Lindelof will be executive producers along with directors Owen Harris ("Black Mirror: San Junipero") W Alithea Jones ("Grease: The Rise of the Pink Ladies").
'Mrs. Davis would then be released April 20th in Peacock In the United States, therefore, it is only natural that it will arrive in Spain within the new SkyShowtime platform.
"Award-winning zombie scholar. Music practitioner. Food expert. Troublemaker."