Florida's governor declares a state of emergency in anticipation of the arrival of the tropical storm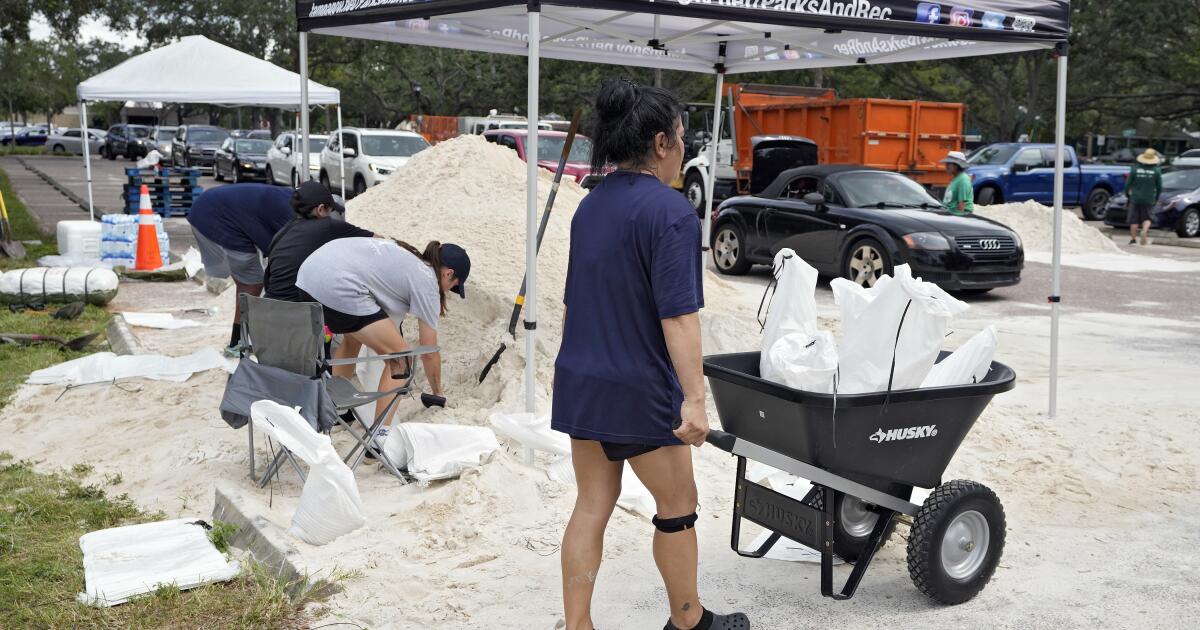 Tampa, Florida, USA –
Florida residents stocked sandbags and evacuated homes along the Gulf Coast as Tropical Storm Idalia intensified Monday, with forecasters predicting it would make landfall within days as a Category 3 hurricane or greater, bringing a powerful storm with it.
On the other hand, Cuba's Adalia Island was hit by heavy rains, especially on the western tip of the island, as the tobacco-producing Pinar del Río region has yet to fully recover from the devastation left by Hurricane Ian nearly a year ago.
Provincial authorities issued an alert, and residents took refuge in the homes of their relatives and friends while authorities monitored the level of the Cuyaguategi River for possible flooding. Up to 10 centimeters (4 inches) of rain was recorded on the island on Sunday, according to weather stations.
At 5 p.m. EST in the US, Idalia was located about 60 kilometers (35 miles) from the western tip of Cuba and had maximum sustained winds of 110 km/h (70 mph), according to the US National Hurricane Center. The meteor was moving north at a speed of 13 km/h (8 mph).
Hurricane winds from Idalia are expected to begin affecting Florida starting Tuesday afternoon with the storm making landfall on the coast on Wednesday. This will be the first storm to hit the state this hurricane season and could be a blow to the state, which is also still dealing with the damage left by Ian.
"You have to be prepared for these things, hope for the best, prepare for the worst, and, you know, take shelter," said Derek Hughes as he waited for sandbags to be loaded into his car at a Tampa park.
Governor Ron DeSantis declared a state of emergency in 46 counties, a wide area in the northern half of the state, from the Gulf of Mexico to the Atlantic coast. The entity deployed 1,100 members of the National Guard, with 2,400 elevated vehicles and 12 aircraft for rescue and recovery work.
Tampa International Airport and St. Pete Clearwater International Airport said they would close their doors on Tuesday, along with the suspension of Sunrail commuter rail service in Orlando.
DeSantis warned of a "significant impact" on the entity, and highlighted the potential for Idalia to become a Category 3 hurricane.
"In real estate, we can rebuild someone's house," DeSantis said during a news conference on Monday. "However, there is no turning back if someone is left in danger and confronts Mother Nature."
Much of Florida's west coast is at risk from storm surge and flooding. Pasco and Levy counties, both north of Tampa, have ordered mandatory evictions for some of their residents. And in Levy County, authorities said Cedar Key residents must leave the island no later than Tuesday night because the bridges would be impassable due to the storms.
___
Associated Press writers Sarah Broomfield, in Silver Spring, Maryland; Christiana Mesquita, in Havana; Mike Schneider, of St. Louis, contributed to this report.
 "Bacon advocate. Certified creator. Twitteraholic. Tv junkie. Beer fanatic. Internet nerd. Passionate thinker. Reader."