I still remember the summer walking around the city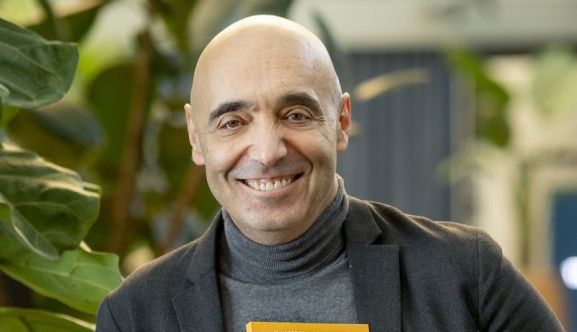 Siberian Quintas In offroad man. Entrepreneur, Coach, Writer and Solidarity. With Salamanca roots, since his mother grew up on Paseo del Rolo and his father in Las Figuelasa week ago, he received one of the awards given at the Gala for Love and Humor at the Palacio de Congresos de Salamanca.
"very happy" for this recognition, He talks to SALAMANCARTV AL DÍA to remember his childhood in the capital of Chara. In addition, he tells us about his current projects and those in progress.
First of all, Cipri, congratulations on this award.
Thank you very much.
What does that mean for you?
Well, it's an award that you get with a lot of love and a lot of humor (laughs). First, because it came from someone who seems like an angel to me, a very good person. It is the love and passion with which Victor organizes the event he conveys. He is really sorry, he has a great love for Salamanca that I fell in love with, because I love and adore Salamanca.
You have a past in this city.
I love Salamanca. My mother is from Paseo del Rolo, my mother is from Las Figuelas and I spent my childhood here. All of my parents' siblings lived in Salamanca and I grew up between the San Jose, Garrido, and San Bernardo neighborhoods. I still remember when we used to go on vacation to Salamanca and those are still my great holidays. Now that I've traveled the world, I miss that boy who took vacations in June and stayed with his grandparents until September in Salamanca. I remember running to La Alamedilla. It was like going to Retiro, into the woods, to enjoy the ducks… Unbelievable. I remember those endless trips in the 600's with my dad, and the whole family to Salamanca. Now I miss her, in a land full of this stone and that culture that permeates everything. With people who were big city, from the Plaza Mayor where cars got in and we parked and we snuck to all the places with my cousins. I love Salamanca.
Tell me about your second book "Sawubona, The Secret to Real Success".
I have 17 issues of the previous book he was going to tell me because I'm an entrepreneur, which I edited into Siri. Many people think that being a writer means being a very educated person, which is not true. I used Siri. I typed it up and cut it and one person helped me make sense of it. And it's okay to say that because the world is full of superheroes that don't exist, we tend to build superheroes and they don't exist, you fall in love with Superman when his kryptonite attacks him. And things have to be told and anyone who wants can build whatever they want.
This last book means "I see you", you are important to me, I feel you, I need you. This is a greeting from South Africa from a small Zulu-speaking tribe. A world in which the important thing is people, and they reminded me that the important thing in the world is people, because without people there is nothing. We talk all the time about AI, but I'm all about emotional intelligence.
People are naturally kind, but our insecurities make us so. We lose ourselves and this book reminds us to focus more on people because our happiness is in front of us and is in them. Real success is feeling loved and loved.
In addition to being an entrepreneur and writer, you have a solidarity project underway in Uganda.
100% of the profits from the book go to a small hospital in Uganda that I started when my daughter was born. In an interview, they told me that I had done a lot of things because I had no children, and said that I would have them. When they found out I was going to become a father, I started getting the letters and at that moment they gave me the idea. As always in my environment, my friends are what make me great, and instead of gifts, we donated money to a small association of people who were trying to build a hospital in Uganda. And thanks to people, we get 100,000 euros a month. Since then, many of the things I do have been dedicated to helping others.
What future project can you tell us about?
Right now, I want to do my own hospitality business, which I have suffered as much as everyone else, drawn from the pandemic. But my biggest and near project is to make a documentary about entrepreneurs who are making a better world, and they are almost all of them. It seems like being an entrepreneur means being a bad person, and I think they've built an image of us that isn't us. It has almost no hours, it has no life, and even when it doesn't, it creates it. And I will remove the many businessmen who give a good portion of their profits to associations, to build schools, to generate scholarships, and who look after their workmen. What are the examples
"Award-winning zombie scholar. Music practitioner. Food expert. Troublemaker."