Spanish productions compete for the title of best tourism film in the world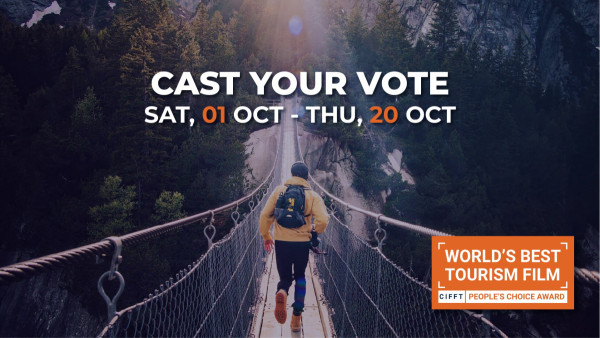 From October 1 to 20, the public is invited to vote for The best travel movie in the world, on the website www.cifft.com. In its fifth consecutive edition, CIFFT "People's Choice" Award It features 49 videos from 22 countries. Spain stands out as the country with the largest presence in the competition.
Eleven Spanish videos take part in the 2022 CIFFT "People's Choice" award: "10 Plans to Live in Madrid" (Madrid Destino), "Be happy at every step" and "Catalonia, a tailor-made destination" (Catalan tourism agency), " Conil Lives In You "(Conil Municipal Tourist Board)," Domicio "The Roman" (Cádiz City Council), "Extremadura – A Story Told From the Stars" (Extremadura Tourism), "Love Rias Baixas. Love story with the province of Pontevedra "(Rias Baixas Tourism, Pontevedra Provincial Council)," No Pleasure in Life is Small "(Andalusian Tourism)," The Extraordinary Journey "(group of World Heritage Cities in Spain)," Valencia, Host City of the 2026 Gay Games " and "International Paella Day" (visit Valencia).
The initiative of the International Committee for Tourism Film Festivals (CIFFT) aims to encourage the public to discover new tourism experiences through video and vote for their favourite.
Audiovisual productions from countries such as Australia, Austria, Azerbaijan, Bosnia and Herzegovina, Bulgaria, Qatar, Kazakhstan, Croatia, Slovenia, Fiji, Finland, France, Greece, Hungary, Iceland, Japan, Lithuania, Poland, Portugal, Taiwan and Uganda.
Such productions compete in ICFT CircuitThe World Tourism Film Competition is supported by the World Tourism Organization (UNWTO) and the European Tourism Authority (ETC), among others. CIFFT brings together events on four continents, including the Terres Travel Festival, held annually in the city of Tortosa.
In 2021, the Portuguese video "De cuerpo y alma", produced by Lobby Films and Advertising for Historic Villages of Portugal, was chosen by the audience as the best tourist film in the world. In 2020, "El Capitan", produced by Innova Films for the Conil de la Frontera City Council (Spain), was the biggest winner.
About Alexander F. Camille, Director of CIFFT,"The films participating in the CIFFT People's Choice Award are a sampling of the most innovative and innovative films in tourism promotion today. It is a great honor to follow their development and to be able to reward the best with the help of the public".
Voting is open from 12:00 CET on October 1 to 12:00 CET on October 20, and is limited to one vote per day, per IP address or browser. The winning film will be announced on October 21, on the CIFFT website and social networks.
Vote: https://www.cifft.com/cast-your-vote/
"Professional problem solver. Subtly charming bacon buff. Gamer. Avid alcohol nerd. Music trailblazer."