"This country loves the Spanish league"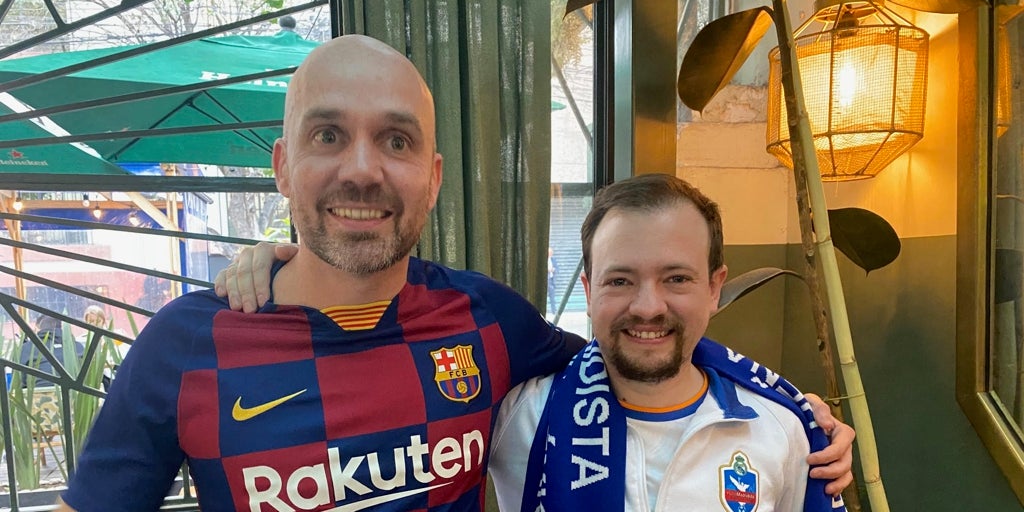 9,483 kilometers from Barcelona, ​​and at the gates of autumn, Mexico City sparkles with the same brilliance of the majestic sun that illuminates its 22 million inhabitants and its 2,240-meter elevation. Here it is, a classic double weekend. Last night – until the wee hours of Spain – the homeland, which has measured Chivas and America for more than a hundred years, played the two great teams of the central European country. Today, at 2:00 pm local time, millions of Mexicans will also sit in front of the TV to watch the match that generates the most passion on the entire planet, Barcelona – Madrid.
"The culture here is that people gather at home to watch football, not in a bar, as happens in Spain. That's why I founded the club in 2018. We have 180 members, and it's the third largest club in North America after Miami and Los Angeles. We are the Real Madrid Supporters' Club." For Mexicans. 90% of the members are local." Alejandro Aybar, a man from Madrid who has worked at Iberdrola Mexico City for fifteen years and heads the Madrid Supporters Club here, the largest of the five in the country. Most of our peñistas are from Catalonia. We are the 5th largest culé fans club outside of Spain, with 155 members. Geo dos Santos, the former Barcelona player, is cooperating with us." Jaume Seussa Catalan businessman who arrived in Mexico after the 2009 crisis and presided over the Penya Blaugrana Ciutat de Mèxic for eight years, one of three in the Central American country.
El Clasico is a private brand run by two world famous entities. A social and cultural phenomenon, as well as a sporting one, which brings together millions of people around the world. Here, in Mexico City, precisely at the famous Monument to the Revolution, which is located inside the Plaza de la Repubblica, league She has prepared the international star event for the day, a "watch party" that will be attended by 5,000 people and which will greet the presence of Morientes and Puyol. It will be a major festival organized under the umbrella of LaLiga North America, the "joint venture" formed in 2018 between LaLiga and Relevent Sports, with the aim of contributing to the growth of our league in the United States, Mexico and Canada: "This country loves La Liga, even more than theirs, and it is Also very popular in the country," admitted Aybar and Suess
In total, LaLiga has 52 soirées running today, from different entities, in 28 countries around the world, such as Costa Rica, where in its capital there will be a "fan festival" for 3,000 people, another in Los Angeles with 2,000 attended and even in Ghana, where it will meet 1,000 people to follow Barcelona – Madrid, which could turn the key to the championship for Xavi's men or reopen the battle for the title if those are from Ancelotti They won at the Camp Nou and are six points away: "It's Real Madrid's last chance to fight for the title," says Aybar. "With a nine-point lead, we don't have a lot to lose and a lot to gain. We have to play with their nerves," Sués said.
India, Brazil, Colombia, Poland, Indonesia, Uganda, Cameroon, Canada, Hungary, Australia and the United Kingdom are other countries where league She will promote her stellar party with various performances and activities around it, which will also be the first classic since the outbreak of the Negreira case, a case of this magnitude and seriousness that has also reached the Mexican capital: «It was a story that was created outside of Catalonia and had nothing to do with buying referees. I feel sorry. We are stupid, but not that much. If you want to buy a judgment, don't do it with CTA number two bills. I think it's a matter of embezzlement, and that's the way we think about it here and in Catalonia ", comments Jaume Suss. "There is something strange. What is the need for Barcelona to pay Negreira for 17 years? Let's wait and see what Justice says," Eber said.
"Reader. Beer practitioner. Web expert. Subtly charming travel geek. Friendly music specialist."