Canfranc aspires to host the 2025 World Trail and Mountain Running Championships with a nomination backed by experience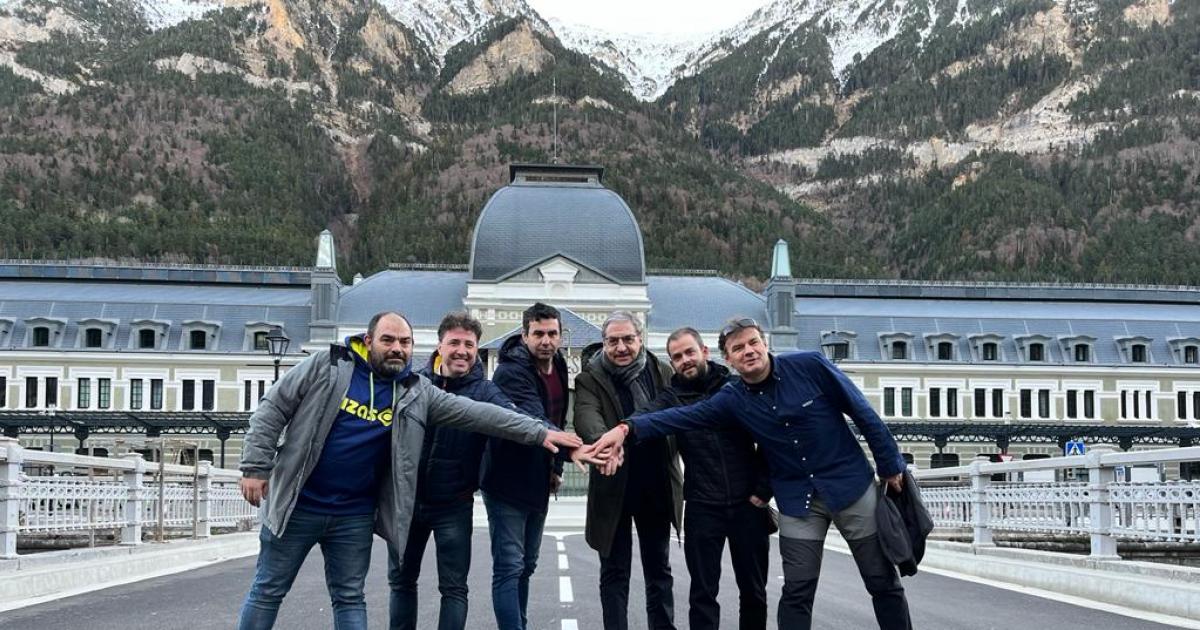 Kanfrank It is being operated as the venue for the 2025 World Athletics Mountain and Trail Running Championships for this purpose He made a very interesting and "powerful" candidacy, whose strengths are experience, organization and proposed path. this area It was one of the finalists to celebrate this test in 2023, which will host Innsbruck (Austria) "And after such a great effort that we made, we were itching not to achieve it, so we started working on the possibility of introducing a new one for 2025," explains Mayor Fernando Sanchez. And it went ahead, in this case promoted and led by the Ministry of Education, Culture and Sports of the Government of Aragon.
Canfranc-Canfranc is truly a world class event. His long career will in 2025 be moving toward its 20th anniversary. By then, it will have hosted several Spanish RFEA Trail Running Championships, no less than 3 editions of the WMRA Mountain Running World Cup and even the main WMRA World Cup, which is already being prepared for 2024. That is why there is "great enthusiasm" for the achievement Quality step. The candidacy is called Canfranc Pirineos, its budget is about 2 million euros and there is a lot of confidence in it, "we know we are in a good position", says the mayor.
On the mathematical front, the test It will have five modalities: Junior sub20, Uphill, Classic, Marathon and Ultra. In total, teams from more than 60 countries, represented by 800 athletes, are expected to compete. Despite the strength of traditional rivals such as Uganda, the United States, Kenya, Italy, Switzerland, France and Great Britain, Spain is aiming for the maximum in Canfranc Pirineos 2025, as evidenced by the great role played by the RFEA team with seven medals in Thailand 2022.
The nomination proposal, submitted at the Montana-a-Lort Risk Management Center, in Canfrank Estacion, is An ambitious project to celebrate in the Pyreneeswhich will host a major sporting event for a week, along with a mountain festival with multiple activities to enjoy the best of nature, history and traditions of the Pyrenees mountain range.
Moreover, perform this test in Aragon Will be A historic occasion as it coincides with the celebration of the 40th anniversary of this competitionborn in 1985 of the World Mountain Running Association (WMRA) and re-established with World Athletics, the International Association of Extreme Runners (IAU) and the International Trail Running Association (ITRA) in the new unified version of Mountain and Trail Running starting in Thang Mai 2022 (Thailand ).
The final decision of world athletics will be known ahead of the 2023 Innsbruck Mountain and Track Championships which will be held from 6 to 10 June.
Director General of Sports Aragonese governmentMariano Soriano who said it was the result of a collective effort of three administrations and two organizers. "We are certified by experience, Canfranc-Canfranc organization, previous candidacy work and master's exam of the year"Soriano adds. That is why "we believe and are convinced that we will win, that is why we have worked a lot of time to prepare a complete project, which is not just a world championship and puts the Pyrenees on the show of mountaineering events.".
Also present at the presentation ceremony were Canfranc-Canfranc Race Director Alex Varela, Sergio Mayayo as a member of the World Mountain Running Association (WMRA) World Council, and Fernando Blasco, Director of TUHUESCA.
"Reader. Beer practitioner. Web expert. Subtly charming travel geek. Friendly music specialist."