WhatsApp will have the most expected functionality; It will be multi-device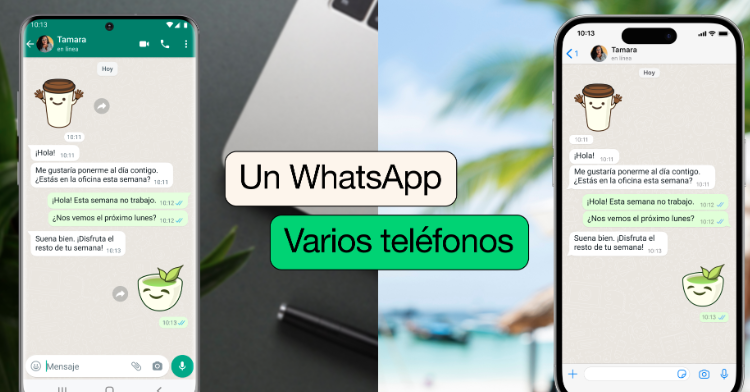 WhatsApp is available in more than 180 countries and is the most popular messaging app in many of them.

WhatsApp will be multi-device with the new update.

In February 2014, Facebook acquired WhatsApp for $1.9 billion.
The WhatsApp It has arrived with the functionality most expected by users, that now the app can be linked to up to four mobile phones at the same time, all with the same level of security with end-to-end encryption. A very recurring issue was that said app could only be accessed on one phone at a time with the same phone number.
The WhatsApp
After Facebook and YouTube, The WhatsApp It is the third most popular social app globally. Part of its success is that it's a cheap alternative to carrier-paid SMS text messaging, especially for international or group messaging. It allows users to share text, photos, video, and voice messages, as well as supports voice and video calls.
Number of users The WhatsApp The number of downloads worldwide increased by 22 percent from the beginning of 2020 to the beginning of 2022. According to Statista, in January 2022, WhatsApp was the most downloaded chatting and messaging app worldwide, amassing around 40.6 million downloads in the Play Store. Apple Apps and Google Play Store. And according to data from Meta, as of the third quarter of 2020, The WhatsApp It recorded a global volume of 100 billion messages sent through the platform per day, an increase of almost 70 percent compared to the fourth quarter of 2017.
WhatsApp will have the most expected functionality; It will be multi-device
Now it is possible to use the same account The WhatsApp On different phones, according to mentioned The company can link up to 4 other devices to the same account so you can easily switch between phones without logging out and pick up chats where you left off.
Obviously, this functionality was very much needed and expected, so there are several scenarios where the new multi-device support could come in handy. From the cellphone that runs out of battery to the small business where employees need to send and receive messages from a work number at the same time. Note that if the primary device is inactive for a long period of time, you will be automatically logged in from all linked devices.
This update has begun rolling out to users around the world and will be available to everyone over the next few weeks.
🥁Drumroll please…

Now you can use the same WhatsApp account on multiple phones 📱📞 ☎️ 📲

Link up to 4 other devices to your account so you can easily switch between phones without logging out and picking up chats where you left off. pic.twitter.com/Loqa30EgHk

– Whatsapp (WhatsApp) April 25, 2023
Similarly, the company has also stated that in the coming weeks it will introduce an alternative and more intuitive way to link devices. It will now be possible to enter your phone number on WhatsApp Web to receive a unique code that you can use on your phone to activate device pairing, instead of having to scan a QR code.
With these new features The WhatsApp It hopes to compete with its main opponent, which is Telegram. WhatsApp's new multi-device feature will be a breakthrough that will improve the way users communicate through this platform.
Read now:
You can now play Mario Kart with Belinda, a video game fan
Chile visits Walmart in Mexico and is surprised at the bakery
There is talent out there, à la Wes Anderson, Oxxo employee that goes viral
"Evil coffee nerd. Analyst. Incurable bacon practitioner. Total twitter fan. Typical food aficionado."